Celebration of Life
Arthur W. Glover
June 20, 1928 - June 30, 2021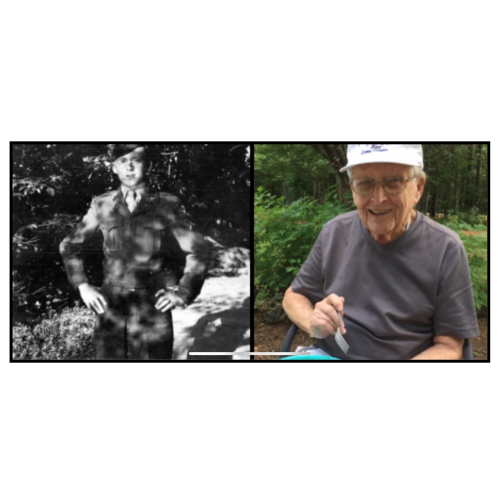 Arthur Wesley Glover, Jr., 93, passed away on Wednesday morning of June 30, 2021 at Community Hospice in Merrimack, New Hampshire after enduring health complications from a fall in his home. During hospice care and at the time of his passing, Arthur was comforted by the love of his family and by the love of his "little one", his wife of 69 years.
Arthur was born June 20, 1928 to Arthur Wesley Sr. and Ruth Rebecca (Cromer) Glover in New Kensington, Pennsylvania. As a loving brother to his sisters Martha Lou and Mercedes, he spent most of his younger years in Mt. Jewett, Pennsylvania where he attended school, played the clarinet, clerked in his father's store, and graduated from high school.
After high school graduation, Arthur enlisted in the US Army and served to protect the peace with the post-WWII occupation of Japan. While in Japan, he was selected to play his clarinet in the 29th Army Band at Kyoto. With an honorable discharge from the Army, Arthur returned home, attended business school, enjoyed playing his clarinet in local bands, and going to barn dances where he met his future wife Emma. He later married Emma in 1952, beginning a beautiful journey of 69 years as husband to Emma and father, grandfather, and great grandfather to his growing family.
Arthur was employed in a career that began after business school as an accounting clerk, developed into print manufacturing management, and later transitioned into residential real-estate. He enjoyed big-band music, camping, round-dancing, and teaching/calling round-dancing for others. Over his lifetime and with several moves across country, Arthur and Emma established homes in Pennsylvania, Ohio, Illinois, Texas, and finally New Hampshire where he retired. After retirement, he enjoyed traveling with Emma to spend time with his extended family across the country, going for walks in the woods or along the ocean shore of New England, and taking-up interests like woodworking.
Arthur is survived by his wife, Emma (Mathys) Glover, son Kent Glover, daughter Brenda (Glover) Gudeman and husband Greg Gudeman, son Brian Glover and wife Valerie (Spurrier) Glover, and son Todd Glover and wife Sandra (Herr) Glover. Also surviving are eight grandchildren - Collin Glover, Lisa (Gudeman) Gonzalez, Dean Gudeman, Drew Gudeman, Lauren Glover, Nathan Glover, Mason Glover, and Curtis Glover, and six great grandchildren. He is also survived by his sister Mercedes (Glover) Johnson who he adored along with many loving extended family and friends. He is predeceased by his parents Arthur W. Sr. and Ruth Rebecca (Cromer) Glover and his twin sister Martha Lou (Glover) Ohlson.
Arthur will be forever cherished as a man devoted to his wife and full of love for his family. His enduring optimism was contagious and a source of strength and motivation to his extended family that will long remain in their hearts and souls. He will always embody the ideal of a life well lived.
Arthur will be buried on August 26th of 2021 under a Japanese maple tree with military honors at Life Forest, Hillsborough, New Hampshire.
Donations in honor of Art can be made to the Community Hospice House, Merrimack, NH 03054
Our Community Hospice House in Merrimack NH
At Home Health & Hospice Care, we are dedicated to helping people in our community find a peaceful and dignified end to their life's journey. The Community Hospice House was lovingly built to care for patients at end of life who were, for a variety of reasons, just not able to be cared for at home. Our state of the art facility is warm and inviting, features comfortable, private living spaces and is staffed by an interdisciplinary team of compassionate healthcare professionals.
Providing a warm, home-like environment, the Community Hospice House was designed as a place for family to gather, for loved ones to reconnect, for music to be played, and for all to enjoy the extensive gardens that surround the property. This is a place where time slows and hands are held, where memories become vivid and stories are shared.
Both young and old alike have lived their final days at the Community Hospice House, surrounded by family and friends. The length of stay is highly individual, ranging from days to months.
,
Remembrances by LifeForest