Celebration of Life
David Scott Mayo
September 18, 1972 - February 15, 2023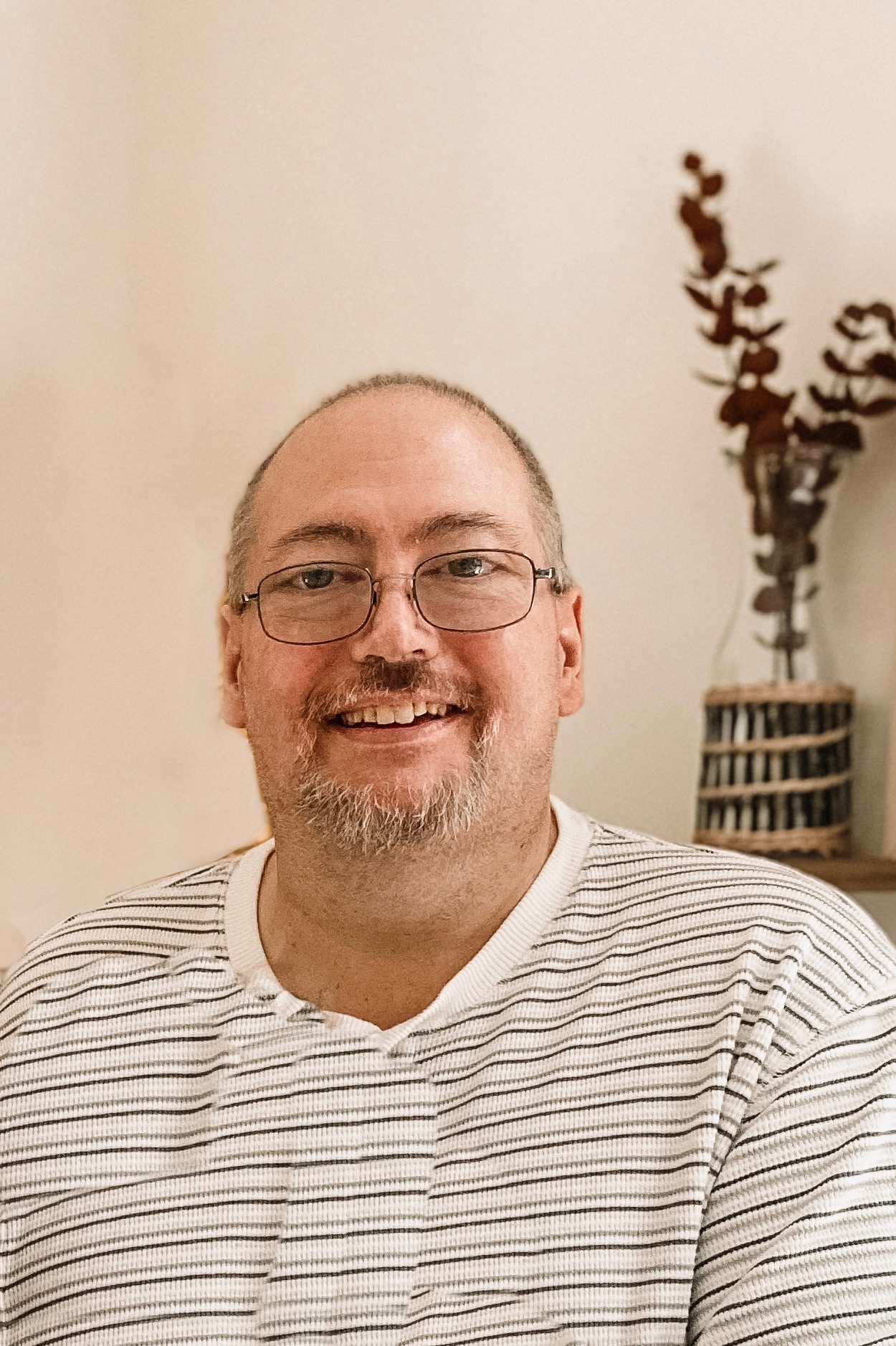 The world became a brighter place the day that David Mayo was welcomed into the hearts of his family and friends. Sadly, my loving husband passed away on Wednesday February 15th, 2023. He was at home surrounded by loved ones.
David wanted to have a Dogwood tree planted, bringing life to the forest with his passing. A way for all of us to remember him. His vision was that there would be something that everyone can see, touch, care for, and watch grow as a way to remind all that he will always be with us.
David wanted to be sure that his grandchildren would know and remember him. He wanted them to watch the tree grow, as they grow, knowing that he is still here with them. He lived for each and every moment he was with his grandchildren and he held on, for as long as he could, not wanting those moments to end.
David found such joy in bringing a smile to everyone's face whether it was breaking out into a funky dance in the store parking lot or just taking his wife's hand in the grocery store checkout line to dance with her to their own music.
David was a brave & valiant warrior who faced each of his tough battles head on. He never gave up; not when he became legally blind in 2018 and not when he was diagnosed with Pancreatic Cancer in 2021. More than anything, he wanted to live and he had a good chance. Afterall the Cancer was found still in stage 1 which is considered a rare discovery and the outlook was positive. David's journey was fraught with so many obstacles to overcome. His chemotherapy medications gave him a fighting chance but so many obstacles… Anaphylaxis from the first chemo medication, high chemo medication toxicity which caused a rare blood anemia called aHUS, radiation failing to help, and going into have a complicated surgery to remove the cancer just to find that it had spread to a distant site. So he went into surgery in stage 1 and came out in stage 4. His prognosis was now 6 months to a year. David would say he was living on borrowed time but that he still wanted to live. He went back on the chemo but eventually that no longer helped.
He was an imperfect man yet still the perfect man for us to love and be loved by. When he loved, it was with his whole heart and soul. His greatest joy in life was being a father and grandfather and he would often say that his grandchildren brightened his day just by smiling. Every day he told his wife, Shanleigh, that she was beautiful and that he loved her. He considered his wife to be his one true love. He believed she was his light in the darkness and carved it into leather which adorns the wall in the family's home.
David was highly thought of and considered a great man by many who knew him. Whether they be family, friends, or an acquaintance he made an impact on each life that he touched by sharing a conversation, his funny jokes, his smile, and his time. He was very forgiving and understanding of others and their trials. He kept an open mind and didn't judge. It was just his way.
David found a home in all of our hearts and he will be greatly missed. He loved with all of his heart as we love him. He was that person who would give you the shirt off of his back if you were in need. A generous and loving soul who we will one day meet again.
A man with many interests, David was a true metal lover, a sword admirer and collector, a movie fanatic, a gun aficionado, and a talented leather craftsman.
David loved a good debate especially if it involved Glocks versus the 1911's which he loved so much. When asked who won, if it was Pooh Bear or Zebra Master, he would always reply, "it was a draw".
His love of 80's hair bands is not to be outdone by his love of Metallica. Hands down, Metallica was definitely his favorite group and Fade to Black his favorite song. He will hear it once again on the day der Baum protects and shelters him.
David could often be found admiring swords online and making his wish lists of which ones he would like to add to his collection on display in the home. David would have a smile so bright every time his grandson would ask, "can I see Opa's sword?"
A movie fanatic whether at home with his family or at the theater, David enjoyed most genres. He enjoyed watching them all from action, martial arts, and the animated The Last Airbender to a chick flick one of his daughters picked out.
David spent most of his free time perfecting his leather craftsmanship. He truly crafted from the heart and put his all into each project from its inception. So much attention to detail, love, and patience was shown in the drawing of his project templates, sewing each piece by hand, dyeing the leather, creating each beautiful masterpiece, and sitting at the work table with his grandson to teach him the craft.
David did everything he could to live every day full of life and love for his family. He never stopped. David left this mortal plain in comfort and at peace. He will be missed more than he ever could have imagined. He is loved by so many. While we wish that he didn't have to go, we know the time had come for him to feel no more pain.
He said he was going to beat 12 months and he did, by 6 days.
You are loved
David, my husband, my true love, my best friend, my soulmate. I loved you then. I love you now. I shall love you always.
I can still feel your hand in mine. I can still see the smile in your eyes. I can still hear your voice and the love you feel for me, our children, and our families. You are the best person I have ever known and I am so blessed to have found you.
It warms my heart to know that your pain is gone and you can smile again. You are loved by so many and loved so much more than you can imagine.
The 'Little man' who held your photo close, with his stuffed dog and kitty looking on, so he could fall asleep with his Opa. In his own words " Bye Opa, see you next time"…he loves you
The 'Pretty girl' who looked for you today and wanted to take every picture of you home with her…she loves you
The 'Sweetheart' who misses you from far away and says she is going to grow up and make a potion so that no one else leaves us…she loves you
The 'Princess ladybug' who looks to your chair hoping to see your smile…she loves you
Our Daughters who feel such a depth of love for you that no man, other than their soulmate, can possibly compete…they love you
The Son who holds you is such high regard that your name will forever remain upon his arm…he loves you
The Mother who looks forward to seeing her 'baby boy' once again, she'll be sure to hang on tight and never let go…she loves you
The Mother who knows you were looking over her and keeping her safe so that she may have many more years enjoying her family…she loves you
The Father who will drop everything to be there for you and let us talk for hours…he loves you
The Father who has waited so many years to see you again and would be content to wait more…he is waiting with open arms to welcome you home…he loves you
The Brother who has so many stories yet to share of all of the crazy things you did growing up. So far away yet always so close to the heart…he loves you
The Brother who is always there in a pinch, ready to help if he can. Never a complaint to be heard…he loves you
The Sister who has a smile for all and loves to host the holiday dinners. Thanksgiving will be a memory to cherish for all…she loves you
The Sister with a heart of gold who would do anything she could to help…she loves you
The Friends Pat & Pat, brothers to you, know that you are dining at the table of the ancestors sharing stories of your life, family, and friends. When it is their turn for the doors of Valhalla to open, they know you will be waiting to welcome them only to ask, "what took you so long"?...they love you
The Family and Friends who think of you and wish they could see you one more time…they love you
Never worry that you will be forgotten. You will be remembered by so many. So many memories. So many moments. So many stories. You will be remembered.
I know that our love for each other is everlasting in this life as it will be in the next. I know that you will always be with me. You would never let go of me. I say I love you. You say that you love me more. To Infinity and Beyond, my love.
David never would have imagined the thousands of people whom he did not have the opportunity to meet that have heard his story, read his story, shared his story, and all those whom have shed tears for him. He will he remembered, never forgotten.
Thank you for letting your hearts and lives be touched by a humble, kind, and loving man.
David is survived by: His wife, Shanleigh Mayo; Daughter & Son-in-law, Caroline and Matthew O'Brien of Washington, NH; Daughter, Helen Lovejoy of Nashua, NH; Daughter, Cassandra Lovejoy of Manchester, NH; Daughter, Heather Lovejoy of Manchester, NH; Daughter, Haley Mayo of Manchester, NH; Granddaughter, Meghan O'Brien of N.Dakota; Grandson, Everett O'Brien of Washington, NH; Granddaughter, Aspen O'Brien of Washington, NH, Granddaughter, Natalie Lovejoy of Manchester, NH.
Mother & Father, Linda Mayo and the late David Mayo; Brother and Sister-in-law, Daniel & Lisa Mayo; Nephew, Daniel Mayo Jr; Niece, Arianna Clarke; Nephew, Bradley Burroughs; Niece, Bella Custode All of MA Mother-in-law & Father-in-law, Margaret & Dean Little; Sister-in-law, Amanda Ernst; Brother-in-law, John Ernst; Brother-in-law, Daniel Ernst; Brother-in-law, Dean A. Little All of MA Aunt & Uncle, Bob & Peggy Boyd of N. Oxford, MA; Aunt, Martha Capoccia of Rochdale, MA; Aunt & Uncle, Bruce & Linda Martin of Acton, ME; Uncle, Christopher Martin of Auburn, NH; Godmother, Jean Koleshis of Ware, MA; and his cousins, Jennifer Martin of Millbury, MA; Amanda Lange of Millbury, MA; Christopher Martin Jr; Tracy Latour of Charlton Depot, MA; Wendy Clark of Baldwin, ME; Bruce Martin of Gloucester, RI; Robert Stonebarger of Anderson, IN He will be remembered fondly by: John & Karyl Paul Philip Bean The Swope Family
Fundraiser by Shanleigh Lorelei : Please help us lay David Mayo to rest. (gofundme.com)
43.122734 , -71.938114
Remembrances by LifeForest