Celebration of Life
Eve M. Babcock
October 21, 1940 - October 5, 2021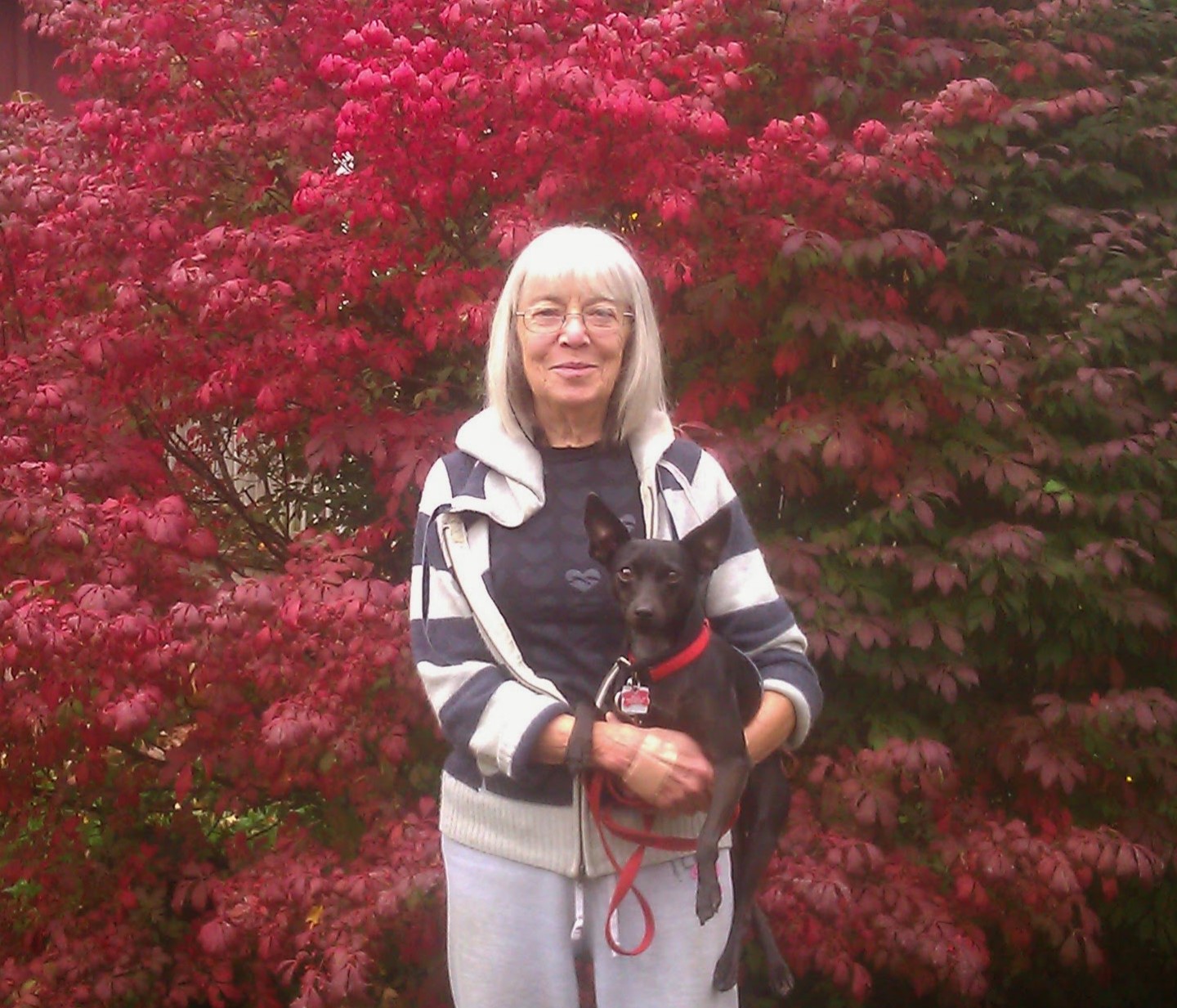 Eve Micaela Mariano came into the world on October 21, 1940 at 3:08 PM.
Her parents, Joseph Mariano and Aileen (Anne) Mariano already had one child, Kristine Mariano, born January 16, 1939. Anne's Mother, Harriet Grapensteter, was already very busy caring for Kristine and became obvious that they would need more help. Eve was sent to live with Italian relatives in Pittsburgh, PA . She lived with Joseph's parents, where he was raised.
Nunzio (1879 birth) and Christina (1890 birth) were Eve's grandparents. They both came over on the boat from their birthplace in Montogano, Italy. She spoke often of these years living on Flowers Avenue, these years shaped her whole life. Her Grandmother remained a very central character in Eve's life, long after she had passed in 1973.
She lived with them up until she began school. She told us of tight knit relatives, the smells of sauce in the air, gardens, chickens, trips to the market, church services and a lot of love and kindness. Eve's Grandparents could not handle raising Eve once she was school age. Eve moved back to her birthplace and back with Joseph, Anne, Kristine, all whom were strangers to her.
Eve had no idea what her sister's life had been like in New York, they were strangers. She described never feeling at home, opting to hide out and sleep in the doghouse, slip in and out of the house, wanting to be invisible.
Anne was a very talented artist, but was very cold, mean, vindictive and eccentric. Joseph was a soft Italian gentleman, but his work kept him busy and away from home. He taught Flute at the Eastman School of Music for 40 years and he played in the Rochester Philharmonic. Joseph was kind, but could not balance out his wife's mental illness.
Eve never legally changed her first name, but she gave herself the nickname of Kelly. During her school years, she described being friends with all different crowds, nice to all, even invited to join a Jewish club as a non Jewish person. She had a little romance, but nothing too serious. She had a best friend Deena, who I wish I knew, I can't track her information down.
She wanted to be a veterinarian, was accepted at Cornell, but her parents stood in her way. She ended up at RIT. Jerry Burt, a NH native saw her walk through the cafeteria one day. He was struck by her and proclaimed that he would marry her. He made sure to get a date and told her he was going to marry her, much to her astonishment!
Jerry was very different from Kelly in many ways , especially upbringing. They developed common interests, taught each other things and adventured in the years before they decided to have children. They were both opposed to having children, but changed their minds. The story was that they used a method to get girl children and planned us to be opposites on the zodiac.
In 1967 they bought a house in Plainfield, NH with a barn and almost 60 acres, they spent years fixing it up. On July 26, 1971 Catherine Christina Burt, "Kate" (ME) was born. A second daughter, Christina Elizabeth Burt, was born Febuary 13, 1974. I was very happy to have a sister!
Raising children changed the dynamic of their relationship. Jerry wanted to be able to still do all the things they used to do, he would often go out while we all stayed home. Jer was the main breadwinner, Kel was the stay at home Mom. He was very social, he was also social with other women...as far back as 1973.
Kel had been dealing with Jer's cheating for years when she met his childhood friend, Jim Babcock, at his high school reunion. Jim was married to Liz and they had 2 older boys. The couples had a few fun visits, which turned into both couples getting divorced. It was a confusing and complicated time for both families, nothing would ever be the same.
Kelly, Kate and Christina moved to Shelby, Ohio. Jerry was left in Plainfield, NH. Jim and Kelly went to city hall and got married, just the two of them in 1985 or 86. I do not understand much about the dynamic of their relationship. They seemed very different, but maybe their similarities involved family psyche issues. Later in life they irritated each other, but also were together a lot, even though both were loners. In the end, they stayed married and cared and counted on each other more than they realized . She and Jim were married up until she died on October 5, 2021.
Eve / Kel had been very youthful up until a few years before her death. In the fall of 2019, after a very hard visit from Christina, she ended up in the cardiac ICU for 7 days. She was in CHF and had A FIB. She went through a chest xray, scan of her brain, 2 heart shockings, and a biopsy of a spot on her left lung. They discovered cancer .
She could have had an operation to cut it out, but before she could get things figured out the pandemic began. It was unsafe to have treatment, procedures shut down, older folks got more isolated. She didn't have treatment and may have actually given up hope. In late May 2021, she got a tick bite, which, unknown to us carried Anaplamosis. This can cause death if untreated. We did not realize what had happened and after she kept getting worse during that last week, we had to have her transported via 911. She was not doing well. She was at both local hospitals for a month. The medical care she received gave her 4 more monthes to spend with loved ones, I am glad the days passed slow during that time.
Mike, Annabelle and I along with friends helped care for her for the extra 34 days it took to get her back with Jim and Bella on Pillsbury Road, Grantham, NH. She wanted to be at home in her own bed with her own things around her. She passed in her own room with Bella by her side at about 10:45 PM on October 5, 2021. Jim was asleep in the next room and I was there, but taking a 10 minute crying break on the porch.
I was thankful to The Lake Sunapee Hospice Nurse for her help that night and for helping tell Jim. I am thankful to Melissa Fusca who drove back over and slept with me in my Mom's bed the rest of the night. I am thankful to the kindness of the NH Cremation soceity, who came in the early morning hours to take her away. I was sad to let her go, so sad! She passed on to the heavenly plane just shy of her 81st birthday .
Later that month, we took her ashes in the beautiful green marble box to Maine for her first heavenly birthday. Mike, Lady Love (dog she gifted us), Annabelle and I celebrated her life together. There were so many wonderful things that made up Eve, Kel, Our Mom. Its hard to put it all into words. Annabelle says, " Grandma was magical and she always listened to you, even if she had no idea what you were talking about".
Kel was helpful, kind, optimistic, loving, loyal, patient, intuitive, interesting, an avid reader, intellectual, a plant lover and gardener, animal lover and nature enthusiast. She loved crafts like sewing, quilting, knitting, stenciling, painting, home projects, cooking from scratch, music (played piano and banjo), exercise and the human body, homeopathy, health food and antiques. She was very open minded and not prejudiced against people for color, race, orientation, handicap, religion...She loved ideas. She loved reading, studying, learning new things.
The jobs I know she had, besides being a great Mom: 1. Making Teddy Bears and Dolls. 2. Worked a little in Burt Printing Shop. 3. Attended hair dressing school. 4. Sold Real Estae. 5. Taught adults to read. 6. Secretary briefly. 7. JOANN FABRIC. 8. A little at the local consignment store.
She left no real instructions for after death, I researched local places and found The Life Forest at 200 Beard Road, Hillsborough, NH. It turned out my Pup Griffin and Bella, Kel's Pup, and Kel could all have their ashes wrapped in a beautiful wool shroud and planted with a giant crabapple tree in our family plot. Many emails and one tour later, Christina (Burt) Soulia and I purchased a family plot in The Life Forest. It is a beautiful, tranquil, magical resting spot for my best friends.
Kel was a true friend to all those in her circle. Griffin was my soulmate dog and Bella was hers. Annabelle says," Griffin was the best dog. He was always watching over me." We are proud to have our family resting ground be the 13 acres, surrounded by conservation land called Life Forest! Until we meet again...sweet friends, be well!
-Kate
43.122562 , -71.938560
Remembrances by LifeForest